132. "Piezotronic Effect Tuning on ZnO Microwire WGM Lasing Mode", Junfeng Lu†,‡, Chunxiang Xuǀ,*, Fangtao Li†, Zheng Yang†,‡, Xiaoyi Li†, Miaoling Que†,‡, Yiyao Peng†,‡, Caofeng Pan†,‡, , Zhong Lin Wang†,‡,ǁ,*, Nature Photonics, 2017 submitted

131. "MoS2 Negative Capacitance FieldEffect Transistors with Subthreshold Swing below the Physics Limit" Xingqiang Liu1,2,3‡, Renrong Liang4‡, Guoyun Gao1‡, Caofeng Pan1,2,*, Qian Xu1, Chunsheng Jiang4, Jun Luo5, Xuming Zou3, Zhenyu Yang3, Lei Liao3* and Zhong Lin Wang1,2,6*, Advanced Materials, 2017 under review.
130. "Vertical layered MoS2/Si heterojunction for ultrahigh and ultrafast photoresponse photodetector", Shuang Qiao, Ridong Cong, Jihong Liu, Baolai Liang, Guangsheng Fu1, Shufang Wang,Wei Yu*, Kailiang Ren*, and Caofeng Pan*, Journal of Materials Chemistry C, accepted.
129."Piezophototronic effect enhanced photoresponse of the flexible CIGS heterojunction photodetectors" Shuang Qiao, Jihong Liu, Xiaona Niu, Baolai Liang, Guangsheng Fu, Zhiqiang Li*, Shufang Wang*, Kailiang Ren* and Caofeng Pan*, Advanced Functional Materials, under review.
128. "Networks of High Performance Triboelectric Nanogenerators Based on Liquid-Solid Interface Contact Electrification for Harvesting Low-Frequency Blue Energy", Xiaoyi Li,1, 3 Juan Tao,1 Xiandi Wang,1 Jing Zhu,3* Caofeng Pan,1* and Zhong Lin Wang1,2*, Advanced Energy Materials, under review.
127. "Piezo-phototronic Effect Modulated Deep UV Photodetector Based on ZnO-Ga2O3 Heterojuction Microwire", Mengxiao Chen, Bin Zhao, Guofeng Hu, Xiaosheng Fang*, Hui Wang*, Lei Wang, Jun Luo, Xun Han, Xiandi Wang, Caofeng Pan* and Zhong Lin Wang*, Advanced Function Materials, Adv. Funct. Mater. 2018, 1706379.[PDF全文]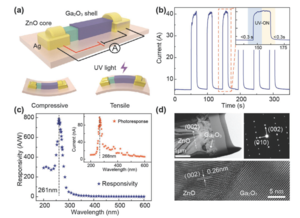 126. "Skin inspired Highly Stretchable and Conformable Matrix Networks for Multifunctional Sensing" Qilin Hua, Junlu Sun, Haitao Liu, Rongrong Bao, Ruomeng Yu, Junyi Zhai, Caofeng Pan, and Zhong Lin Wang, Nature Communications,Nature Communications,2018,9. [PDF全文]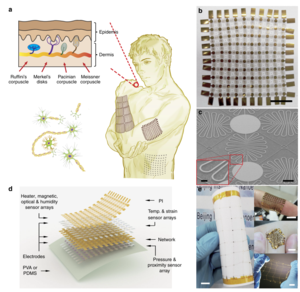 125. "Tunable tribotronic dualgate logic device based on MoS2 and black phosphorus transistors" Guoyun Gao, Bensong Wan, Xingqiang Liu, Xiaonian Yang, Longfei Wang, Qijun Sun1, Caofeng Pan, Zhonglin Wang, Advanced Materials, 2017, accepted
124. "Highly Stretchable Transparent Selfpowered Triboelectric Tactile Sensor with Metallized Nanofibers for Wearable Electronics", Xiandi Wang+, Yufei Zhang+, Xiaojia Zhang, Zhihao Huo, Xiaoyi Li, Miaoling Que, Zhengchun Peng*, Hui Wang*, Caofeng Pan*, Advanced Materials, 2017, 1706738. [PDF全文]