130. "CVD-prepared vertical layered MoS2/Si heterojunction for ultrahigh and ultrafast photoresponse photodetector", Shuang Qiao, Ridong Cong, Jihong Liu, Baolai Liang, Guangsheng Fu1, Shufang Wang,Wei Yu*, Kailiang Ren*, and Caofeng Pan*, Nano Research, submitted

129. ""Piezo-phototronic effect enhanced photoresponse of the flexible CIGS heterojunction photodetectors" Shuang Qiao, Jihong Liu, Xiaona Niu, Baolai Liang, Guangsheng Fu, Zhiqiang Li*, Shufang Wang*, Kailiang Ren* and Caofeng Pan*, ACS Nano, submitted
128. "Networks of High Performance Triboelectric Nanogenerators Based on Liquid-Solid Interface Contact Electrification for Harvesting Low-Frequency Blue Energy", Xiaoyi Li,1, 3 Juan Tao,1 Xiandi Wang,1 Jing Zhu,3* Caofeng Pan,1* and Zhong Lin Wang1,2*, Advanced Energy Materials, submitted

127. "Piezo-phototronic Effect Modulated Deep UV Photodetector Based on ZnO-Ga2O3 Heterojuction Microwire", Mengxiao Chen, Bin Zhao, Guofeng Hu, Xiaosheng Fang*, Hui Wang*, Lei Wang, Jun Luo, Xun Han, Xiandi Wang, Caofeng Pan* and Zhong Lin Wang*, Advanced Function Materials, under review
126. "Plasmon-induced accelerated exciton recombination dynamics in ZnO/Ag hybrid nanolasers", Junfeng Lu, Mingming Jiang, Ming Wei, Chunxiang Xu, Shufeng Wang, Zhu Zhu, Feifei Qin, Zengliang Shi, and Caofeng Pan, ACS Photonics, DOI: 10.1021/acsphotonics.7b00476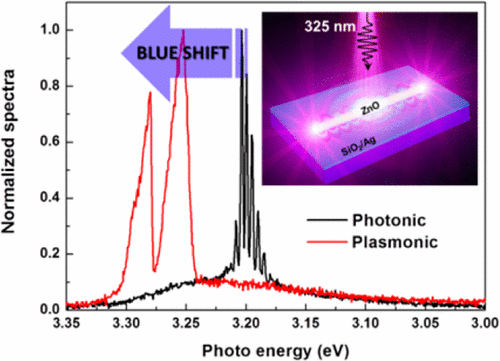 125. "Skin-inspired Highly Stretchable and Conformable Matrix Networks for Multifunctional Sensing" Qilin Hua1,4, Junlu Sun1, Haitao Liu1, Rongrong Bao1*, Ruomeng Yu3, Junyi Zhai1,2, Caofeng Pan1,2 * and Zhong Lin Wang1,2,3*, Nature Communication,2017, under consideration.

124. "Ultrahigh, ultrafast, and self-powered visible-near-infrared optical position-sensitive detector based on vertically standing MoS2/Si heterojunction" Ridong Cong, Shuang Qiao*, Jihong Liu, Jiansong Mi, Wei Yu, Baolai Liang, Guangsheng Fu, Caofeng Pan*, and Shufang Wang*, Adv. Sci., 2017, online
123. "MoS2 Negative Capacitance Field-Effect Transistors with Subthreshold Swing below the Physics Limit" Xingqiang Liu1,2,3‡, Renrong Liang4‡, Guoyun Gao1‡, Caofeng Pan1,2,*, Qian Xu1, Chunsheng Jiang4, Jun Luo5, Xuming Zou3, Zhenyu Yang3, Lei Liao3* and Zhong Lin Wang1,2,6*, Nature Electronics, 2017 submitted
122. "Tunable tribotronic dual-gate logic device based on MoS2 and black phosphorus transistors" Guoyun Gao, Bensong Wan, Xingqiang Liu, Xiaonian Yang, Longfei Wang, Qijun Sun1, Caofeng Pan, Zhonglin Wang, Adv. Mater., 2017 submitted
121. "Self-powered Real-time Movement Monitoring Sensor Using Triboelectric Nanogenerator Technology" Liangmin Jin, Juan Tao, Rongrong Bao, and Li Sun, Caofeng Pan, Scientific Reports, 2017 DOI: 10.1038/s41598-017-10990-y.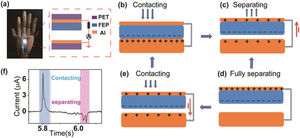 120. "Preparation of mechanoluminescent ZnS:Mn with oxygen assistance for dynamic pressure mapping" XiandiWang, Rui Ling, Yufei Zhang, Miaoling Que, Yiyao Peng, and Caofeng Pan, Nano Research, 2017, DOI:10.1007/s12274-017-1813-y.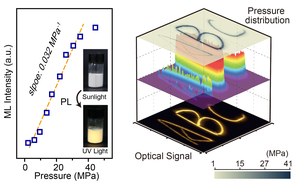 119. "Self-select mechanism of Fabry-Perot nanowire cavity for single-mode lasing" Yue Yang, Hua Zong, Chuang Ma, Tiantian Wei, Junchao Li, Jian Zhang, Mo Li, Caofeng Pan and Xiaodong Hu*, Optics Express, 2017, 25(18), 21025-21036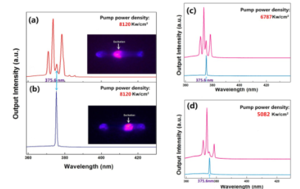 118. "Light-Emission Enhancement in a Flexible and Size-controllable ZnO Nanowire/Organic Light-Emitting Diode Array by the Piezotronic Effect" Rongrong Bao+, Chunfeng Wang+, Zhengchun Peng, Chuang Ma, Lin Dong and Caofeng Pan*, ACS Photonics, 2017, DOI: 10.1021/acsphotonics.7b00386 [PDF全文]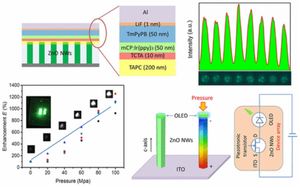 117. "Flexible LED Arrays Made of Transferred Si-Microwires-ZnO-Nanofilm with Piezo-Phototronic Effect Enhanced Lighting" Xiaoyi Li, Renrong Liang, Juan Tao, Qiming Xu, Zhenchun Peng, Xun Han, Xiandi Wang, Chunfeng Wang, Jing Zhu*, Caofeng Pan*and Zhong Lin Wang, ACS Nano, 2017, 11 (4), 3883–3889 [PDF全文]
116. "Visualization recording and storage of pressure distribution through a smart matrix based on the piezotronic effect" Xun Han, Weiming Du, Mengxiao Chen, Xiandi Wang, Xiaojia Zhang, Xiaoyi Li, Jing Li, Zhengchun Peng, Caofeng Pan*and Zhong Lin Wang*, Adv. Mater., 2017, DOI: 10.1002/adma.201701253 [PDF全文]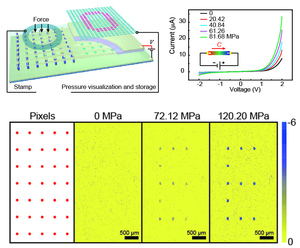 115. "Enhanced photoresponsivity of MoS2-GaN heterojunction diode by piezo-phototronic effect" Fei Xue+, Leijing Yang+, Mengxiao Chen+, Jian Chen, Xiaonian Yang, Longfei Wang, Libo Chen, Caofeng Pan* and Zhong Lin Wang*,NPG Asia Materials, 2017, accepted [PDF全文]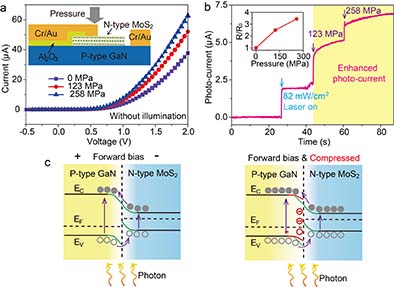 114. "Flexible electrically pumped random lasing from ZnO nanowires based on metal-insulator-semiconductor structure" Miaoling Que, Xiandi Wang, Yiyao Peng and Caofeng Pan*, Chinese Physics B, 2017, 26(6), 067301 [PDF全文]
113. "Flexibly and Repeatedly Tunning Lasing Wavelengths in Single Core-Shell Semiconductor Microrod" Hua Zong, Yue Yang, Chuang Ma, Xiaohui Feng, Tiantian Wei, Junze Li, Wei Yang, Caofeng Pan* and Xiaodong Hu*, ACS Nano, 2017, DOI: 10.1021/acsnano.7b01417 [PDF全文]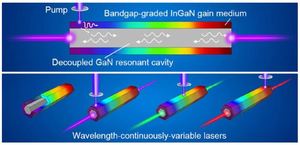 112. "Detection of Non-joint Areas Tiny Strain and Anti-Interference Voice Recognition by Micro-cracked Metal Thin Film" Chunfeng Wang+, Jing Zhao+, Chuang Ma, Junlu Sun, Li Tian, Xiaoyi Li, Fangtao Li, Xun Han, Chuntai Liu, Changyu Shen, Lin Dong*, Jin Yang* and Caofeng Pan*, Nano Energy, 2017, 34, 578-585 [PDF全文]
111. "Photoluminescence Tuning in Stretchable PDMS Film Grafted Doped Core/Multi-shell Quantum Dots for Anti-Counterfeiting" Fei Li+, Xiandi Wang+, Zhiguo Xia*, Caofeng Pan* and Quanlin Liu Adv. Funct. Mater., 2017, DOI: 10.1002/adfm.201700051 [PDF全文]
110. "A Nanowire Based Triboelectric Nanogenerator for Harvesting Water Wave Energy and Its Application" Xiaoyi Li, Juan Tao, Jing Zhu* and Caofeng Pan*, APL Mater., 2017, 5, 074104 [PDF全文]
109. "Piezotronics and piezo-phototronics based on a-axis nano/microwires: fundamentals and applications" Xingfu Wang, Wenbo Peng, Caofeng Pan and Zhong Lin Wang*, Semicond. Sci. Tech., 2017, 32, 4 [PDF全文]
108. "Recent progress in piezo-phototronics with extended materials, application areas and understanding" Youfan Hu, Caofeng Pan and Zhong Lin Wang*, Semicond. Sci. Tech., 2017, 32, 5 [PDF全文]
107. "Enhancing the Efficiency of Silicon-Based Solar Cells by the Piezo-Phototronic Effect" Laipan Zhu+, Longfei Wang+, Caofeng Pan, Libo Chen, Fei Xue, Baodong Chen, Leijing Yang, Li Su and Zhong Lin Wang*, ACS Nano, 2017, 11(2), 1894-1900 [PDF全文]
106. ""Energy Relay Center" for doped mechanoluminescence materials: a case study on Cu-doped and Mn-doped CaZnOS" Bolong Huang*, Dengfeng Peng, Caofeng Pan*, Phys. Chem. Chem. Phys.,2017, 19, 1190-1208 [PDF全文]
105. "Full Dynamic-Range Pressure Sensor Matrix Based on Optical and Electrical Dual-Mode Sensing" Xiandi Wang+, Miaoling Que+, Mengxiao Chen, Xun Han, Xiaoyi Li, Caofeng Pan*, Zhong Lin Wang*, Adv. Mater.,2017, 29, 1605817 [PDF全文]
104. "Black phosphorus quantum dots with tunable memory properties and multilevel resistive switching characteristics" Su-Ting Han+, Liang Hu+, Xiandi Wang, Ye Zhou, Yu-Jia Zeng*, Shuangchen Rua, Caofeng Pan* and Zhengchun Peng*, Adv. Sci.,2017, 1600435 [PDF全文]
103. "Mechanically induced Strong Red Emission in Samarium Ions Doped Piezoelectric Semiconductor for Dynamic Pressure Sensing and Imaging" Wei Wang, Dengfeng Peng, Hanlu Zhang, Xiaohong Yang, Caofeng Pan*, Optics Communications, 2017, 395, 24–28 [PDF全文]
102. "Performance Limits of the Self-Aligned Nanowire Top-Gated MoS2 Transistors" Zhenyu Yang, Xingqiang Liu, Xuming Zou, Jingli Wang, Chao Ma, Changzhong Jiang, Johnny C. Ho, Caofeng Pan, Xiangheng Xiao*, Jie Xiong* and Lei Liao*, Adv. Funct. Mater. 2017, 27, 1602250 [PDF全文]